This year hasn't really been conducive to motivating a lot of us, has it? Personally, I've not known whether to push myself harder or allow myself breathing space throughout it all – the reality has been somewhere in the middle.  
Half the battle for motivating ourselves – especially for us women – comes attached to a bucketful of self-doubt relating to whether we're even capable of achieving what we set out to achieve.
But we are capable, we wouldn't have it in our mind's sight it if it wasn't something we're capable of achieving.
For me, I always find strength in empowering & motivating words – sometimes it feels as if they fall in front of us at the exact moment we need to see to them. Like the speaker is talking directly to you, knows your story and wants nothing more than to encourage you forward.
I love to share quotes with the Living.Pretty.Happy community in the hope they're a timely lift right when it's needed most.
And today is no exception as I'm sharing 25 of my favourite motivational quotes with you. Take some time out to let the motivational wisdom of others empower you now. Repeat them, journal them, place them where you'll see them regularly, believe them and most importantly believe in yourself.
25 Motivational quotes to empower you:
01. Don't be afraid. Be focused. Be determined. Be hopeful. Be empowered. — Michelle Obama
02. Hold the vision. Trust the process. — Unknown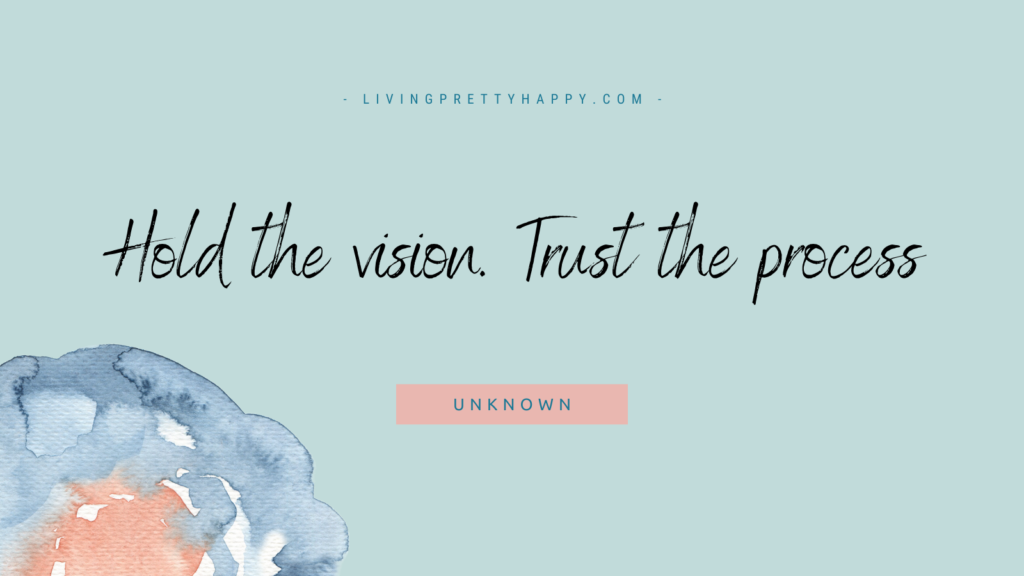 03. Only I can change my life. No one can do it for me. — Carol Burnett
04. Everything you want is just outside of your comfort zone. — Robert Allen
05. Stop being afraid of what can go wrong and start being positive about what can go right. — Unknown
06. Never regret a day in your life. Good days bring you happiness and bad days bring you experience. — Unknown
07. She will rise with a spine of steal and a roar like thunder. She will rise. — Nicole Lyons
08. Results happen overtime not overnight – work hard, stay consistent and be patient. — Unknown
09. Believe in yourself. Believe in your capacity to do good and great things. Believe that no mountain is so high that you cannot climb it. believe that no storm is so great that you cannot weather it. Believe in yourself. — Gordon B Hinckley
10. To be the person who we long to be—we must be vulnerable. We must take off the armour, put down the weapons, show up, and let ourselves be seen. — Brené Brown
11. Remember, every pro was first an amateur. Start your dream now. –- Marie Forleo
12. It might not be easy but it'll be worth it. –- Unknown
13. I now tried a new hypothesis: It was possible that I was more in charge of my happiness than I was allowing myself to be. –- Michelle Obama
14. Take the risk or lose the chance. –- Unknown
---
Sign up to my newsletter & receive:
All the latest Living.Pretty.Happy news
Special offers & discounts from brilliant brands
Exclusive content not available on the blog
Processing…
Success! You're on the list.
Whoops! There was an error and we couldn't process your subscription. Please reload the page and try again.
---
15. It doesn't matter who you are, where you come from. The ability to triumph begins with you – always. — Oprah Winfrey
16. You are allowed to want more for yourself for no other reason than because it makes your heart happy. You don't need anyone's permission, and you certainly shouldn't have to rely on anyone's support as the catalyst to get you there. — Rachel Hollis
17. Do something today that your future self will thank you for. –- Unknown
18. There is a wolf inside of every woman. Her wolf is who she was made to be before the world told her who to be. Her wolf is her talent, her power, her dreams, her voice, her curiosity, her courage, her dignity, her choices—her truest identity. — Abby Wambach
19. Do what you feel in your heart to be right – for you'll be criticised anyway. — Eleanor Roosevelt
20. The best time to plant a tree was 20 years ago. The second best time is now. –- Chinese Proverb
21. Every action you take is a vote for the type of person you wish to become. — James Clear
22. If we really love ourselves, everything in our life works. — Louise Hay
23. Keep your thoughts directed at your goal, do everything that you DO know how to do to make it happen, decide with unwavering determination that it will happen, and be on the lookout for the opportunity. — Jen Sincero
24. There is no passion to be found in playing small – in settling for a life that is less than the one you are capable of living. — Nelson Mandela
25. Who you are tomorrow begins with what you do today. — Tim Fargo
---
I hope you enjoyed my handpicked motivational quotes. Do you find motivational quotes helpful? Do you have a favourite? Is there a motivating & empowering quote you'd like to share? Whatever you'd like to say, leave me a comment in the box below – I always love to hear from you!
ADVERTISEMENT: